5 Glass Backsplash Ideas
Earlier this month, we shared a handful of beautiful glass backsplash ideas for your perusal. If those ideas got the mental gears turning but you haven't quite settled on anything yet, don't worry. We have five more phenomenal glass backsplash ideas sure to help you decide what's best for your kitchen!
Slim Tiles in Alternating Colors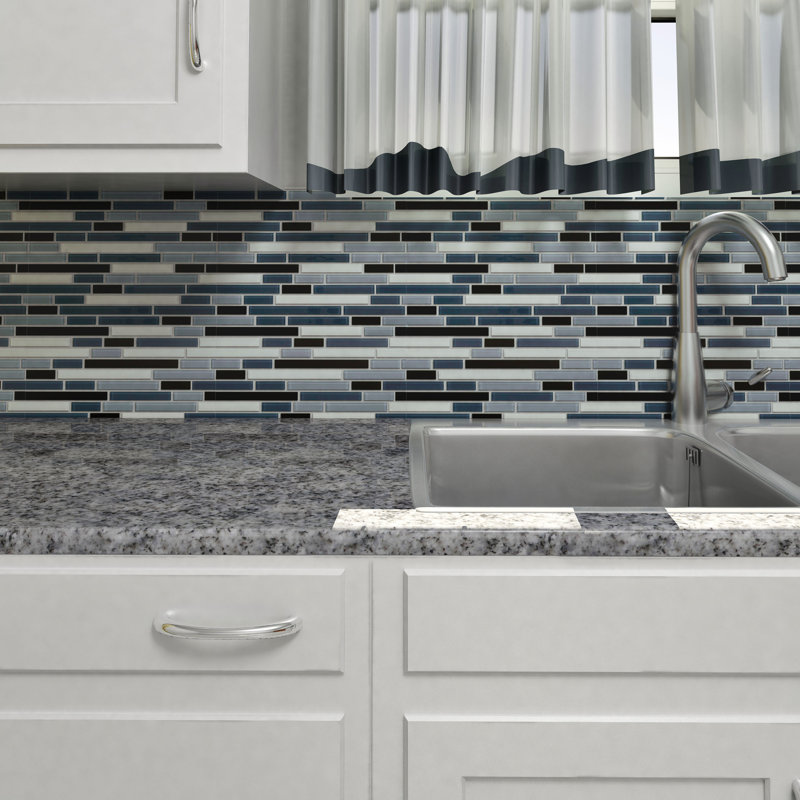 Backsplashes can cover some or all of your kitchen walls. At CBD Glass, we leave the power to decide in your hands. If you're looking for a more expansive backsplash, this one with alternating tiles is a great pick.
The slim tiles are mostly long, but there are a few shorter ones in the mix for visual interest. The color scheme includes a pale blue, blue/black, and an off-white blend. These are neutral shades sure to suit any kitchen. Of course, at CBD Glass, we let you customize your backsplash and other glass accent item with any colors you want.
Glass Brick Backsplash
Glass bricks are another service offered through CBD Glass. You can decorate your kitchen and other rooms of your home with these glass bricks and then get a backsplash to match! This one features glass bricks with a reflective, metallic shine. Your bricks can be translucent, colored a single hue, or even multiple shades.
Sheer Backsplash Against a Colorful Wall
One of the main reasons homeowners opt to get a backsplash in the kitchen is to protect the paintjob or wallpapering there. If you have an especially unique wall color, you can preserve it forever through a transparent backsplash.
Just take a look at the example above. Those electric, neon green walls are so vivid. Now, with a glass sheet backsplash atop the walls, the color will never fade, nor will it be susceptible to staining and other damage.
A Backsplash That Highlights Unique Artwork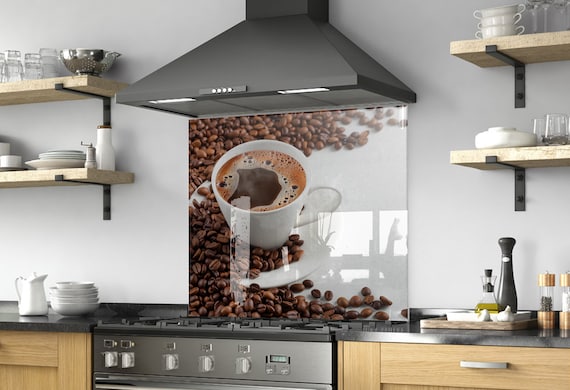 Here's a take on the above backsplash, but with more strategic placement. This homeowner has a large artwork of coffee beans and a cup of coffee in their kitchen. Given that the art is between the stove and the overhead fan, surely it would be exposed to a lot of heat.
With the translucent glass backsplash in place, that's no longer an issue. Now the art can remain in pristine condition while improving the look and cheeriness of the kitchen. If you have artwork that's special to you, now you can keep it in the kitchen too if you want!
Glass Backsplash That Looks Like Art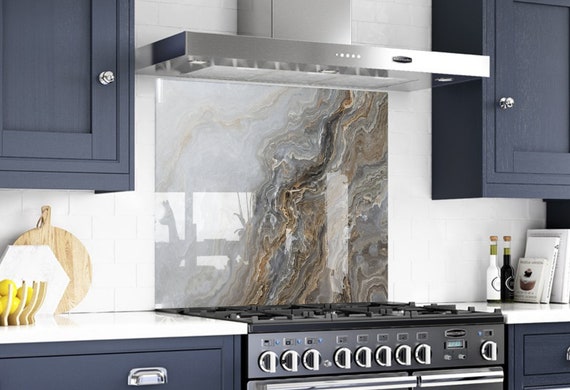 No art? No problem! You can always opt to get a glass backsplash panel that looks just like a work of art itself. Our team at CBD Glass offers countless texturing and backpainting options so you can create a backsplash reminiscent of the one above. If you want something that's more uniquely your style, we're also happy to help.
You can reach our CBD team by email at info@cbdglass.com or by phone at 1-855-872-4223. We look forward to discussing your glass backsplash ideas with you!